What's the most profitable hotel out there? The one that cares for its hotel pricing strategy.
Creating hotel pricing strategies for your rooms is the critical step for maximizing your profits. 
Those who do revenue management professionally know that prioritizing occupancy over ADR can improve net operating income. A study conducted by researchers from Pennsylvania State University identified that occupancy has more impact on a hotel's operating income than ADR (average daily rate).
Simple guessing won't work for setting rates and increasing occupancy. So how do hoteliers do it? 
This article will cover how hotels calculate prices and share hotel pricing strategies examples.
Read more on how changing focus from ADR to occupancy improved Hotel Whiskey revenue.
What is a hotel pricing strategy?
In a few words, creating the hotel pricing strategy involves setting up what you will charge for each room to maximize profits. 
There are few factors hoteliers take into account in the pricing of hotel rooms.
What are the factors that affect the price of the room?
Before I tell you how do hotels calculate prices for rooms, you want to know how each of the factors below influences your hotel:
Location

What's the hotel's unique selling proposition – what makes your hotel different from others? 

Fixed and variable costs (fixed are, for example, salaries, taxes, mortgage, electricity, wifi; variable costs relate to, for example, advertising, marketing, OTA commissions, food, and beverage)

Reputation (reviews, social media)

Historical data

Unanticipated circumstances (like weather)

Competition

Seasonality

Market trends

Type of customers
Hotel pricing strategies examples
The simple formula for calculating room or bed rates is summing up the fixed and variable costs and what you want to earn. Sum up all the costs, add what your hotel needs to profit from, and divide it by the number of rooms.
The room rate you will get will cover the expenses related to managing a hotel. Yet, it doesn't consider many factors mentioned above, like competition or seasonality, which means you're missing an opportunity to earn more money.
Hotel pricing based on the customer 
Another option is to create your rates based on how your customers perceive the value you offer. If a hotel is high on rankings, has neat reviews, and is different from competitors, you can set your prices higher based on that.
What's more, the common practice is to divide customers into segments: corporate, FIT (free independent traveler), groups. From there you can have 3 different room rates:
BAR – best available rate for the individual travelers, which can change based on the demand

Corporate – stable price, pre-established with the repeating business customers 

Groups – discounted prices for the group bookings
Listen, customers pay for the benefits your property brings to them, not for the features. Meaning they are willing to pay more if the hotel offers an incredible experience. 
But, even this strategy has a flaw. Imagine there are similar properties to yours in the area, and it's hard for customers to tell the difference. They might be going for a similar hotel but with lower prices. Once again, you're leaving money on the table. And that means low season can hit you hard, with low occupancy.
Hotel pricing based on the occupancy
Here's another option for hoteliers to calculate their prices – based on the occupancy. 
You can have lower room rates from Monday to Thursday since the occupancy is low. The prices go up for the weekend because you know this is when the demand grows. 
In the case of the business hotel in the city, it can be the other way around. Prices are higher during the week – when the demand is higher and lower costs over the weekend.
This hotel pricing is popular, but it has flaws. It doesn't consider factors such as local events, which can increase the demand. 
So what's the best hotel industry pricing strategy? And by best, I mean the most profitable? 
There's no right or wrong answer, and in Pricepoint, we believe that the most effective and profitable is dynamic pricing.
What is dynamic pricing in hotels?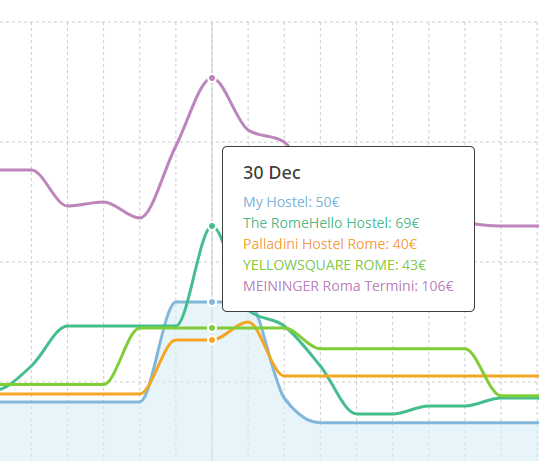 Traditionally you would set a price for a room and keep it unchanged for days or weeks. Dynamic pricing is a strategy that analyzes the demand nonstop and adjusts rates to keep them at an optimal level in response to demand at a given moment in time. This flexibility allows capturing the right customer, at the right time, and in turn, maximizes revenue. 
If you decide to go with dynamic pricing you will be tracking real-time market data, such as hotel and flight booking trends, government restrictions, events, weather, and your competitors.
For all of the above, while you can use tools like Hotel Insights by Google, events calendar, or even controlling what your competitors are doing, it's a lot of work. 
Honestly, you could be doing it all day and still miss important information. Without mentioning, you still need to manage a hotel.
Enter – technology.
Revenue management systems, business intelligence tools, and rate shoppers can do all of that for you. Gather the real-time data, and give you optimized price suggestions multiple times a day. 
When a property applies dynamic pricing, these are the advantages:
Optimized prices to maximize hotel revenue

It's the most flexible approach towards pricing, comparing with the most traditional ones

It optimizes the occupancy to increase your ADR and RevPAR (or RevPaB in case of hostels)
Now that you know your options for calculating prices, let's have an overview of the best hotel industry pricing strategies.
4 best hotel pricing strategies
1. Length of stay restrictions
With the special events happening over the weekend, it can be wise to set the restrictions for minimum night stays. It is eliminating the one-night stays, which cost more than bring profits. 
Imagine for a second you manage wooden bungalows in a holiday destination. It's more profitable to set a minimum 7 days-stay during the high season, since the demand is higher, and you know families are looking for a place to stay for a week or longer for their holidays. This way you reduce the costs of cleaning too.
During the low season, you can offer discounts for the extended stays, encouraging guests to stay longer.
2. Cancellation policy hotel pricing
Cancellation policy impacts hotel revenues. The best is to offer a standard rate with free cancellation up to 48 hours before arrival for all these travelers needing flexibility in their decision-making. 
For example, business travelers are willing to pay higher rates with flexible cancellation policies because their plans can change last minute. On the other hand, families with kids can choose to spend less but with a non-refundable cancellation policy. Usually, they plan their holidays well in advance, and there's a smaller chance their plans will change.
During the pandemic, hotels needed to adapt their cancellation policy due to the travel restrictions. That's how the flexible non-refundable rate is born. These rates include discounted room pricing, with the flexibility to change the dates of stay for free.
3. Forecasting based pricing
Forecasting pricing in revenue management means predicting the future demand. It's also related to dynamic pricing. You might think predicting the future is impossible, but revenue managers are doing it every day. 
How? By analyzing hotel historical data and real-time market data.
If you want to stay ahead of the competition, it's necessary to be proactive in hotel room pricing. Following what others are doing is not enough and can damage your online reputation and revenues.
Tools like rate shopper and automated revenue management system helps research all these data and optimize room prices for accommodation profitability. And while technology does this job for you, it leaves you space for improving the guest experience. 
4. Upselling and cross-selling pricing
Upselling and cross-selling are effective strategies to increase hotel profits beyond the rooms. 
When a guest might book a standard room, giving them the option to upgrade the room to a sea view might increase your revenue and your reviews too. Remember that it's essential to match the right upgrade offer with the right customer in the upselling strategy. 
What do I mean by that? A couple arriving for the honeymoon might fancy paying more for the ocean view room with a terrace. A business traveler might not.
The cross-selling strategy means offering complimentary services. You don't have to focus only on selling your rooms, because you can also profit from other hotel services. While your guests stay, you can offer them a Spa treatment, extra tour, dinner – that all maximize hotel profits.
Can you apply different hotel pricing strategies at the same time?
Indeed, you can try. Still, keep in mind that not everything will work for every channel (online travel agencies). Start with analyzing factors that can influence your prices, try few pricing strategies, and see which one improves hotel profits. 
In Pricepoint, we believe dynamic pricing is the most effective option for hoteliers who want to be the most profitable.
​
Do you want to learn more about effective revenue management for your property? Make sure to cover the basics with these articles:
---
Written by Ewa Gabara, Marketing Coordinator