How 8 different properties increased their revenues by 19% on average, with Pricepoint
8 properties
32-198 guests
Average use of 130 days
Year on Year occupancy increase
Details of the case study
Pricepoint is the automated revenue management software that lets hospitality properties manage their revenue strategy on complete autopilot.
We have carried a study on 8 different properties across 5 countries: USA, Brasil, Hungary, Poland, and Spain. They all used Pricepoint in the background on autopilot. 
Overall, all properties were observed for an average of 4.3 months or 131 days, between June 2019 and August 2020. 
During that time these properties noticed a 19%‌ ‌average‌ growth ‌in‌ ‌revenue‌ ‌and‌ a 13.4% ‌average‌ ‌growth ‌in‌ ‌occupancy‌. ‌
With our average monthly licensing fee of $149 Pricepoints additional revenue generated is on average 20 times larger than the monthly cost. Pricepoint RMS is an investment in the success of your property that is proven to pay for itself.
How much more extra revenue can an RMS generate? and how quickly will my property see results?
There is no genie with a crystal ball that can say with any degree of certainty "your revenues will grow by "x%" in a matter of "y weeks/months" as it depends on a wide variety of factors.
 However, what we can say in confidence from our observations is that all properties using Pricepoint saw a significant positive change in extra revenue generated all while running the software completely on autopilot.
 The hospitality industry is full of properties of different types, shapes, and sizes. You might wonder if Pricepoint can help exactly your hotel? 
 That's why we tracked 8 different properties to show and measure just how big the difference of using a revenue management system can be.
Sampled properties: location and size

The 8 observed properties are located in 5 countries. 1 in USA, 3 in Brazil, 2 in Poland, 1 in Spain, and 1 in Hungary.
The smallest accommodation has the capacity of 32 guests and the biggest- 198 guests.
In this way, we could observe just how much can help revenue management with Pricepoint in different types of properties. 
Far too often small accommodations forget or are left behind by the proper revenue management. We have designed Pricepoint to make available revenue management tools to properties of different sizes and types. 
This study case shows that Pricepoint helps them all.
We've started tracking the first property using Pricepoint as early as June of 2019 and as recent as August 2020. Overall, we observed all properties for an average of 4.3 months or 131 days.
 In a crisis like the COVID-19 pandemic, hoteliers tend to overreact with drastic price drops to compete on the remaining demand that does exist. Pricepoint is designed to price optimally, even in times of low demand, ensuring the price selected is relative to the level of demand and the price sensitivity, to avoid a race to the bottom (famously known as price war).
Results of revenue management with Pricepoint
100% of properties using Pricepoint run the software in the background on autopilot. While the hotelier stays in control, they have no desire to interact with our completely automated and effective process. 
It's great as it can automatically change your prices on occupancy etc. Handy if you have multiple properties, or to save time! Since it does it automatically, this can increase your revenue during busy periods when you might not react fast enough to increase prices yourself.
Across all properties, we saw an average increase of $110USD in additional daily revenue.
To put it into perspective the monthly cost of Pricepoint was almost entirely paid off in extra revenue gained during one day.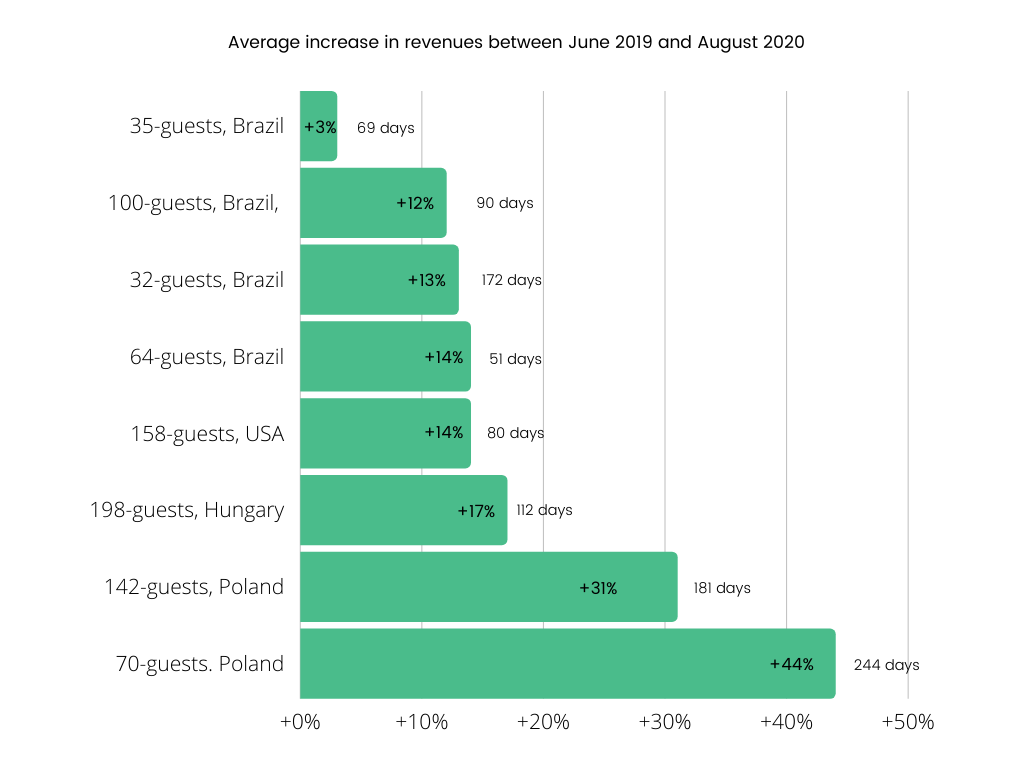 Because there is a large difference in the number of beds available between these individual properties there is some alter to our results. To remedy this we can take a median value of extra revenue daily YTD giving us $71 USD.
Our 8 properties saw an average YTD change in bookings pickup of 34% and a median value of 29%.
On average the revenue created by Pricepoints complex algorithms was 20 times larger than the licensing fee.
Pricepoint's licensing cost starts at just $149 monthly. While the average monthly increase in revenue in these 8 properties was $3,359 compared to the same period last year.
The average monthly revenue increase per bed observed while Pricepoint was functioning was $68USD, which means among the 8 accommodations, the cost of the Pricepoint license is equal to the extra revenue of just 5 beds on average.
Pricing changes so often even within a 24-hour period.
 The best way for keeping up with the pace is to have a solution in place that automates the process. Against relevant factors like booking trends, historical data, seasonality, geography, competitor set, etc.
To stay in the game, hoteliers need to increase flexibility around pricing to stay at the optimal rate (which can change multiple times a day). 
 Making manual changes is significant daily work and can leave you with a feeling of uncertainty especially given the current industry's situation.
 If a company or software provider quotes a specific percent that they guarantee to raise revenues sadly they're lying. Real customers of Pricepoint discussed in the case and much more globally are proven to benefit from their investment in a modern revenue management system that creates long-term resilience in a currently disrupted and fast-paced hospitality industry.

Step up your revenue game in 30 days for free