When you work in the hospitality industry, it's certain you will hear this term: revenue management. In this article, we define what it means, why it's important and how an automated revenue management system (RMS) helps to maximize hotel's profits.
---
Keeping 4 seasonal rates is so yesterday…
Do you feel like there's too much guessing in your pricing process? Wondering if your struggle brings any difference to your hotel occupancy? Then you need these three words, my friend:
revenue management system.
Having flat rates is no longer enough and it's not a thing to discuss. Hotels become more profitable and competitive by optimizing their prices. 
What is a revenue management system in a hotel?
Hotel revenue management means selling the right room to the right customer at the right time through the right channel, to boost revenue growth.
Some hotel revenue management issues seem way too complicated for many hoteliers. Now hoteliers need to be proactive and take advantage of immediate market opportunities. 
Detect a sight of returning demand before the competition.
Here is the thing, for all the above you need to analyze a large amount of data. And not every property has a budget to hire professional revenue managers who can focus on it.
The good news is there is a solution: an automated RMS.
The automated RMS helps hoteliers do all the mentioned above. Including suggesting optimized prices, to increase hotel profitability.
How does the hotel revenue management system work
Recent development in technology, and the uncertain market situation took revenue management to a whole new level. 
In Pricepoint we like to say that it's not magic – it's science.
Forget about overcomplicated software, that only experienced revenue managers know how to use.
With new solutions, there's no need to be a revenue management guru. From boutique hotels to large hostels – they use automated RMS without going deep into pricing strategies and analyzing data.
Automated RMS analyzes hotel and local market data, booking trends: 24/7/365. And it comes up with the most optimized price for the rooms. On autopilot. It's connected to your PMS, channel manager, or directly to OTA and pushes the optimized prices for you.
By the way, there are many benefits to adopting RMS in your hotel or property.
You want to maximize profits- you got this (Pricepoint helped 8 properties increase revenues by 19% on average).
No need to worry about complicated algorithms or following the trends. You see, the revenue management system does that for you – It calculates and suggests the most optimal rates, so you don't have to. 
Also, you will end the guesswork and complicated Excel sheets. Automated RMS, like Pricepoint, provides easy-to-read graphs and analytics.
Below you can see the infographic, showing how an automated revenue management system works.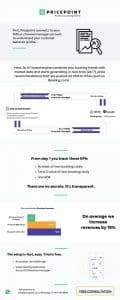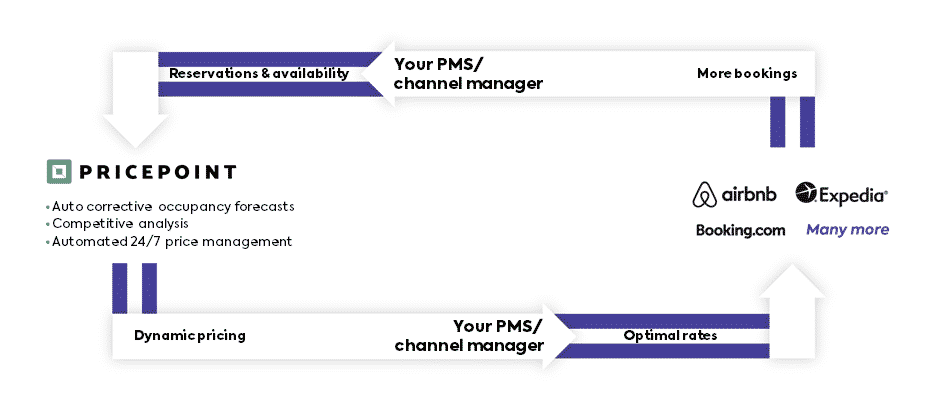 Importance of revenue management in the hotel industry
Having a revenue management strategy is priceless when you're looking to maximize your property results. What's more automated RMS can help you secure success.
The revenue management process used to include analyzing the hotel's historical data. It used to be an essential element in forecasting future demand.
Well, not anymore…
It's useless to compare year-over-year data, including the numbers from the recent months because the entire 2020 was completely different. The current travel demand landscape changes and evolves.
You need to analyze big amounts of real-time data like market trends, travel restrictions, competition data, flight bookings – to make the right pricing decisions. That's where revenue management systems become a gear you need to include for hotel profitability and staying competitive in your market.
In a fast-evolving industry like travel and hospitality, you need to be proactive in your pricing otherwise you will be out of the game. 
Pandemic only made it painfully obvious, that there's no place for the old ways of setting the hotel's room prices.  
Not to brag about Pricepoint, but this is the easiest example I have of how important revenue management in hotels is. 7 properties from hotels to hostels, using RMS noticed a 13,4% average YoY occupancy increase.
To put it bluntly: if hotel revenue management metrics like RevPAR or ADR are important to you (note: they should), then there's no way to go around it if not applying revenue management strategies. 
I know that some results seem too good to be true. 
The best way to know if a revenue management system works is to try it by yourself. Book a meeting with Pricepoint's team to see how we can help improve metrics in your hotel.